I've been watching tivoed So You Think You Can Dance and turned on the news. It is STORMING like crazy just on the other side of town and we got nothing, nada, not a drop. Unbelievable. It has been such a hot day today...the heat index was 101F and it felt like it, too.
This morning while I was looking for a file on the computer I found a recipe for peach ice cream.
I have no idea where the recipe came from, if you do please let me know so I can give credit where it is due. It was easy to make and it is good. I added a bit more sugar...just because I like it like that. It nearly dropped me to my knees when I tasted it before putting it in the ice cream freezer. We have an electric one that is ages old, but it worked. We haven't made homemade ice cream for twenty years...for real. Wish I'd taken a picture of it. It was like magic how the cream expanded as it froze and came up in the cannister. This was the first time I've ever had homemade that didn't have salt in it...I thought, but after I finished I got a tiny aftertaste. It was truly the real deal.
Texas Peach Ice Cream
3 medium size Fully-ripened peaches, peeled, stoned and chopped (approximately 1-1/2 cups)
¼ cup plus 2 tablespoons Sugar
1-½ teaspoons Pure vanilla
2 cups Half-and-half, or 1-½ cups whole milk plus ½ cup heavy cream
In a bowl, using a potato masher or wooden spoon, break up the peaches with the sugar and vanilla until coarsely mashed. Stir in the half and half. Taste and add more sugar if needed.
Pour the mixture into an ice cream maker and freeze according to manufacturer's directions. You can also "still-freeze" this ice cream, but it will not be as smooth (see directions below). When the ice cream is thickened and frozen, scrape it into a plastic container, cover and freeze for at least 1 hour. Let it soften slightly in the refrigerator before serving.
After about 30 minutes of looking at the recipe off and on, I told my husband we must go to the farmer's market right now! We weren't sure if the Parker County peaches were ready yet, but there was one guy who had a bunch of peaches. He was sorting them and putting the bruised ones in a box. I asked if he would make me a deal on that box (the overipe ones are the best for what I wanted). He made me a deal for $3.00.!! I made a double recipe of the fresh peach ice cream and have enough for a peach crisp or cobbler tomorrow. Oh yes...those peaches count for fruit servings....well, in my world they do and they do for real. We just won't think about the half and half tonight.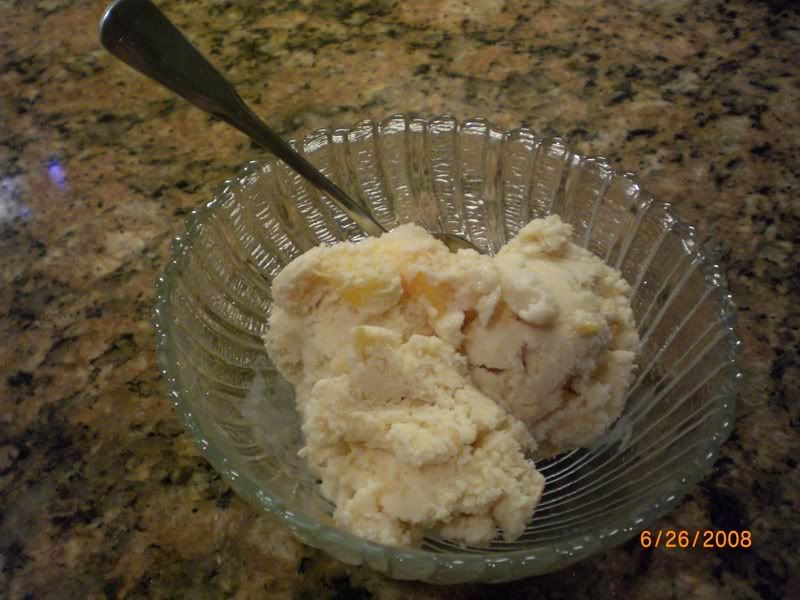 Thank goodness we have a new little freezer to put our ice cream bounty into.
You can see how messy our garage is...and I spy the pink flamingo's rear end...been wondering where it was....you know..yard art and all.
Alas, poor brown freezer we knew you well. You served us for forty years and kept our food frozen solid, except for the time the kids pulled your door open trying to reach the popsicles and the side of beef defrosted. That was not a good day for pretty much all of us. The parts guy came for you today and carted you off to freezer heaven, for you could go to no other place, faithful Montgomery Ward freezer.
Keep an eye on my weather thingy to see how hot it is and how we at my house are not getting any rain whatsoever and the other side of town is nice and cool...however, there were some bad issues associated with this rain. No tornadoes or anything like that, but I did hear them say a lot of wind. Now I feel awful that I envied their rain.